Best Seafood and Clam Chowder
Bloomer Estates Recommends
Address: 1208 38th Pl, Seaview, WA 98644
Phone: 360.642.7880
'Clamshell Railroad' Bistro fare with casual fine dining in historic Seaview's 120 year old depot. Northwest twist! Display kitchen and chef's table. Regional and international wine list with six microbrews on tap. Covered, heated deck. Wednesday gourmet Burger Nites, October through May. Children's pastas. Party & reunion planning. "One of the Northwest's best dinner houses," Gerry Frank, The Oregonian. "The kind of restaurant you hope to find on vacation," Frommers. Chef/Owner Lalewicz has "food angels singing in the kitchen", NW Palate. Celebrated by: Sunset Magazine, Seattle Metropolitan Magazine, Best Places & Best Places to Kiss. People's Choice Award winner for "Best Service Anywhere" and Restaurant of the Year, Coast Weekend.
Address: 151 Howerton Way SE, Ilwaco, WA 98624
Phone: (360)642-4332 or (888)748-8156
Fresh local seafood on our menu and in our market. Outdoor seating with a great view of the marina. Awesome Dungeness Crab Cakes, Fabulous Fish Tacos, Homemade Clam Chowder, Fish-n-Chips and more! Mon/Tues 11am-6pm, Wed-Sun 11am-8pm
Doogers Seafood and Grill
Address: 900 Pacific Ave S., Long Beach WA 
Phone: (360)642-4224
For over 30 years, Dooger's Seafood and Grill has enjoyed a reputation for serving some of the finest seafood to be found on the Washington and Oregon Coast. You'll not only enjoy a fantastic meal but also the service and atmosphere that locals have come to count on.
Ask about our GLUTEN FREE options!
Address: 208 Pacific Ave S., Long Beach WA
Phone: (360)642-4745
Castaways serves the best seafood, chowder and drinks in downtown Long Beach, Washington. Customer review: Best food in Long Beach. We had the mushroom swiss and the salmon ceasar wrap with garlic fries. Have never had such amazing food till now. If you are looking for a great place to eat make sure you go to Castaways Seafood Grille. If you have to wait for a table it is worth the wait. 
Address: 1917 Pacific Ave. S, Long Beach WA 
Phone: (360)642-8870
For 70+ years the Crab Pot Seafood Market & Restaurant has been a staple for fresh seafood on the Long Beach peninsula. We're 1st in Long Beach on the left specializing in fresh seafood including CRAB, Willapa Bay's finest OYSTERS and CLAMS, SPRING, CHINOOK and COHO SALMON (when in season). Calamari, clam chowder, burger baskets, fish-n-chip baskets, CRAB LEGS, WHOLE CRAB DINNERS, CAPTAIN'S PLATTER and STEAMED CLAMS are a few of our favorite menu items! The Crab Pot is the place locals go for seafood!
Pattys Fish Tacos
Address: 403 Pacific Ave, Long Beach WA 
Phone: (360)244-2621
The best Fish tacos in town-by far! Pattys is awesome, and a must stop for anyone visiting the Long Beach Peninsula. Patty's is downtown, just next to Marshes Free Museum. 
Voted One of the Best Clam Chowder 
 Address: 118 Pacific Ave S, Long Beach WA 
Phone(360) 642-4441
Not to be missed! The Cottage Bakery is a Long Beach, WA institution. Using equipment built in the 1950's the recipes have never changed. All fresh ingredients, baked daily, soups sandwhiches served, latte's served.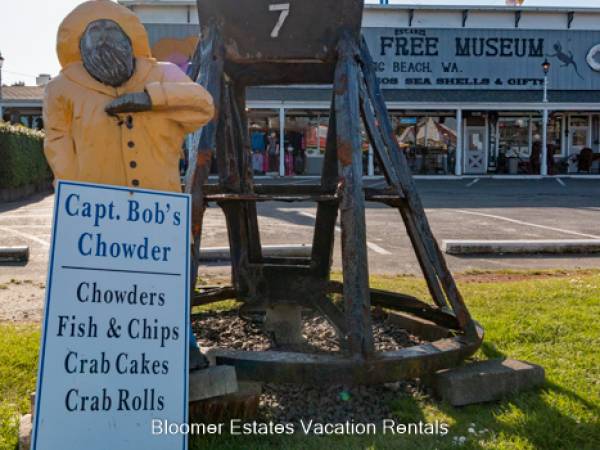 Captains Bob's Clam Chowder
Voted One of the Best Clam Chowder 
Address: 409 Pacific Ave S., Long Beach WA
Phone: (360)642-2082
Downtown Long Beach
Every cup/bowl is served with oyster crackers and a bread stick. We also serve crab rolls, crab cakes, bread bowls and fresh salads. Menu and hours extend in the summer.
Stay in one of the best Vacation Rentals on the Washington Coast.