Top Things to Do
Top 15 FUN things to do on the Long Beach, Washington Coast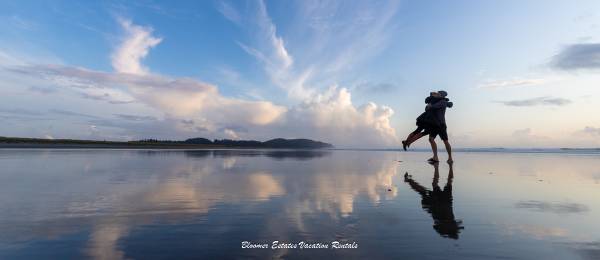 Enjoy the beach life
With 28 miles of drivable  beach there are lots of options of fun things to do:  Ride an electric bike along Discovery Trail, take a horseback ride on the beach, build sandcastles near the surf, fly the kite you bought from the Long Beach Kite Museum, find your hidden treasure at one of the many antique stores, or just stroll along the boardwalk with a double scoop ice cream cone from Scoopers.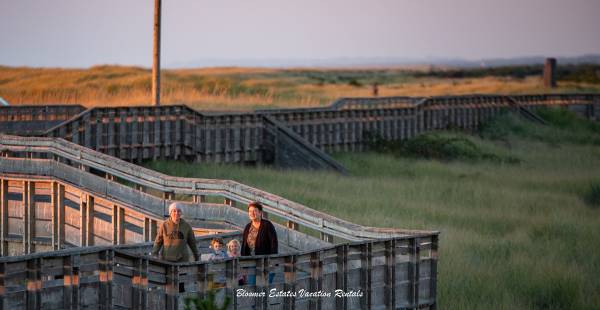 Stroll the Board Walk
Take a stroll along the popular Long Beach Boardwalk, the perfect place to enjoy a sunset. Stretching a mile along the coastline and only a few minutes walk from downtown, the boardwalk is visited by thousands of people from all over world every year.
Sunset Romance has an amazing view of the boardwork from the living room dining room, and Suite Beach, SandyToes, Oceans 12 and Beachy Keen are within a 5 minute walk.
Tour the Lighthouse
North Head and Cape Disapppointment Lighthouses are two of the 750  lighthouses along the coasts and shores of the United States. Built in 1856, the Cape Disappointment Lighthouse has been helping sailors navigate through the mouth of the Columbia River for over a hundred and seventy years. The North Head Lighthouse, built in 1898, guides boats and ships approaching from the north. During the spring and summer months, North Head Lighthouse is open for tours, allowing tourists to take in views from the top of the lighthouse.
Lost Lobster is the closest rental to these state parks (within 2 miles), and also has spectacular views of the ocean.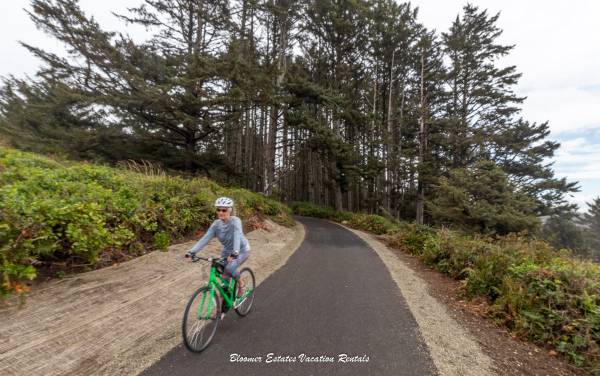 The Discovery Trail stretches from the Port of Ilwaco to Long Beach, WA with its entry point just behind the Cedar at the Sea Vacation Rental.  It is a paved trail that meanders through dunes and natural pine forests, making it perfect for bikers, hikers and walkers to enjoy the beauty of the Washington Coast. Along the way there are many interpretive panels and sculptures commemorating Lewis & Clark's journey, adding insights and interest  to the historically rich Long Beach Peninsula.
Bloomer Estates Vacation Rentals has over 12 rentals within a short walk or bike ride to the Discoverty Trail. See the Map for location of homes.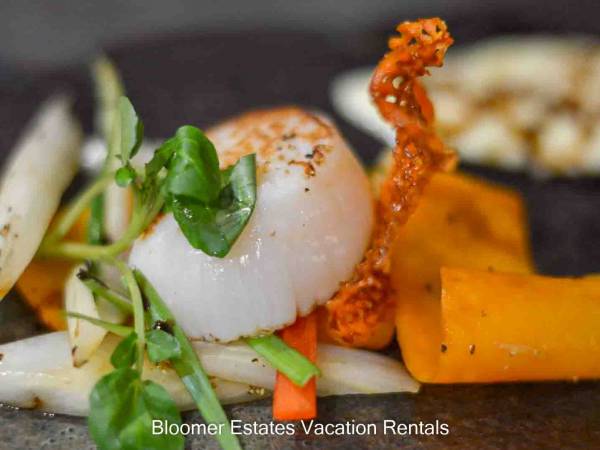 Savor the Fresh Seafood
See our Fine Dining List HERE
See our Best Seafood and Clam Chowder HERE
Enjoy the freshest salmon, Dungeness crab, tuna, clams and Willapa bay oysters at some of the best restaurants in Washington state. With most of the seafood coming from the Pacific Ocean, Columbia River and Oysterville's oyster and  farms and the Port of Ilwaco, "Dining at the source" is a way of life for locals and visitors alike.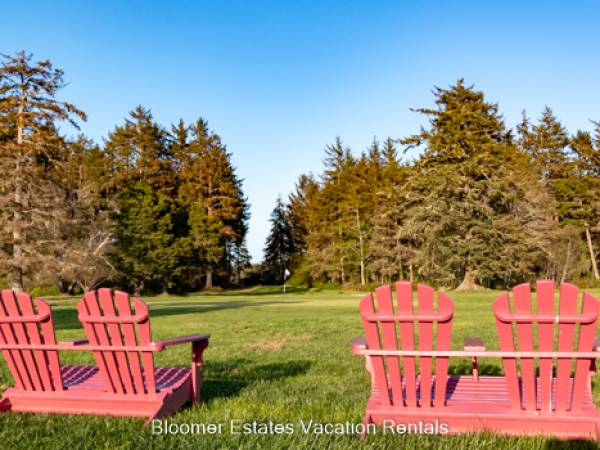 Play a round of golf at and enjoy a fabulous lunch or dinner
Peninsula Golf Course and Cove Restaurant 
Located just outside of the downtown Long Beach, this nine hole golf course sports meticulously cared for greens and a  friendly staff ready to help with all your needs. With natural pine forest providing  shade and an abundance of local wildlife in the adjacent forest, this truly is a perfect place to relax and play a round of  golf. 
Just across the street from the golf course are two Bloomer Estates Rental properties: Cedar by the Sea, and the Lighthouse Vacation Rental. Handy Hangout is 1/2 mile away.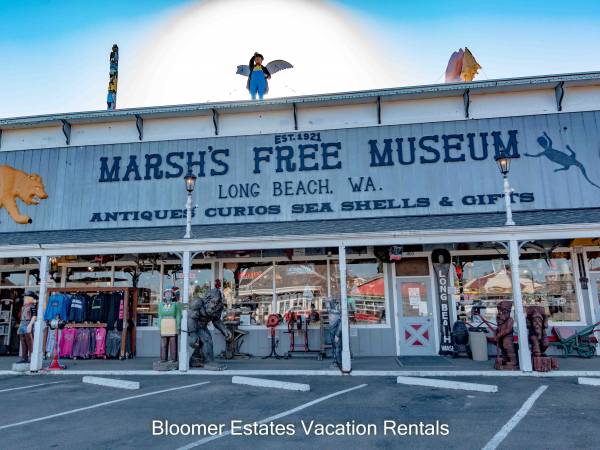 Visit Jake the Aligator Man at Marsh's Free Museum
409 Pacific Ave S, Long Beach, WA 98631-4021
So many cool things to see here. This isn't your average souvineer shop, althought there is plenty of things to buy before your trip home. Marsh's Free Museum is just plain fun to visit, much like a small carnival. Penny viewers, grip testers, 1930s baseball arcade game still working, and Jake the Alligator Man. Do not miss this.
Within a two minute walk to Marshes Free Museum are  Suite Beach, SandyToes, Oceans 12 and Beachy Keen vacation rentals.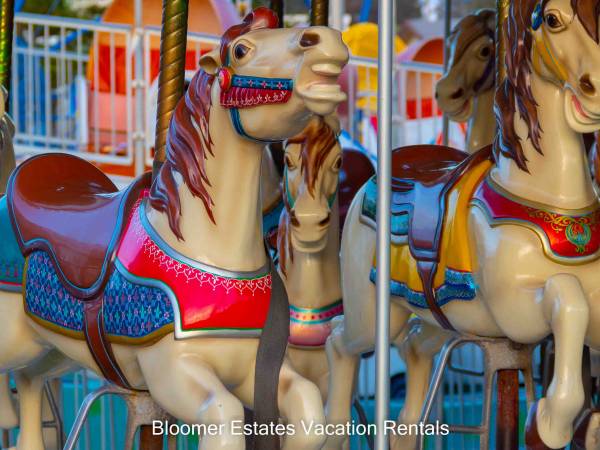 Create lasting memories for the kids 
See our Top Fun Things To Do with Kids HERE.
Remember the beach towns when you were young, where dessert was found at a local candy store, and you learned to drive on a bumper car or go-cart? That place still exists, and it's called the Long Beach on the Washington Coast. Enjoy pinball, laser tag and video games at FUNLAND in downtown Long Beach. Ride the go-karts and play around of mini-golf.  Build a sandcastle before the tide comes in. So many great things for kids to do. Leave the smart phones and tablets  at home and get back to old-fashioned family fun.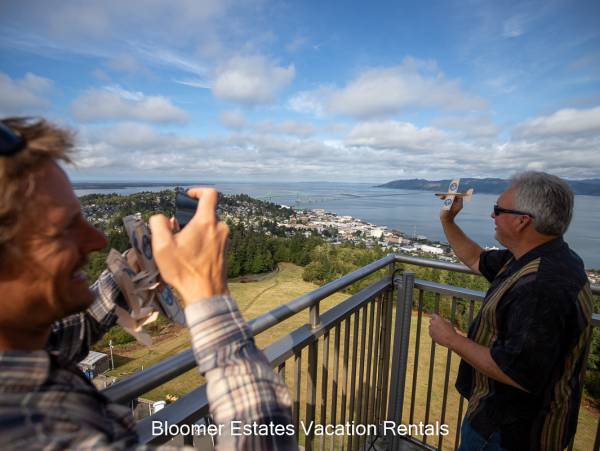 Hugely fun and not just for kids, throw balsa wood airplanes off the top of the  Astoria Column.  It's a tradition that has been going on at the column for a few decades. Buy your small bio-degradable balsawood planes at the gift shop, climb to the top of the 125-foot column, and launch them into the air. Adults and children alike are mesmorized by how far they fly. A few of them have been spotted all in downtown Astoria Oregon.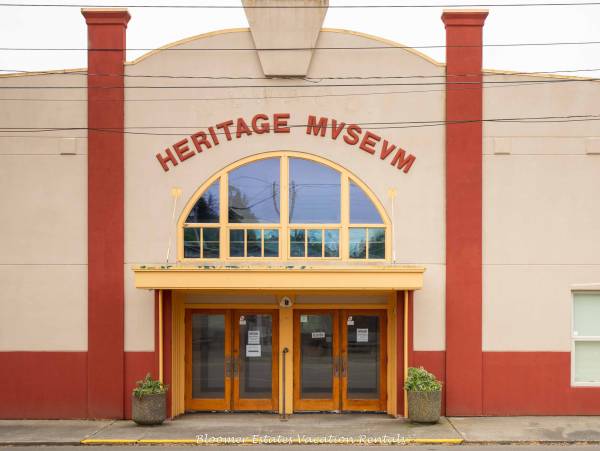 Learn about Southwest Washington History
See our list of best museums in the area HERE
    A rich history warrants impressive museums. Pacific County has both. The Columbia Pacific Heritage Museum in Ilwaco preserves the legacy of the lower Columbia River and southwestern Washington, while the World Kite Museum in Long Beach has a collection of kites from around the world. The Lewis and Clark Interpretive center, with sweeping views of the mouth of the Columbia River, focuses on Lewis and Clark's jouney, which ended right here in Long Beach, Washington.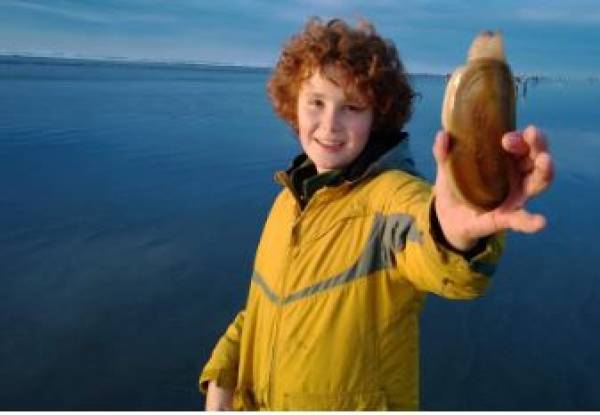 Join the Razor Clam Digs
The Long Beach Peninsula's razor clam season is a huge draw for people around the world.  The season typically lasts from early Fall to early Spring. The annual Razor Clam Festival is held in April when the community comes together to celebrate the historic tradition of clam digging.
Razor Clam Information: General Info | Current Season
Take a horseback riding tour on the beach
There are three places to book rides at the beach during late Spring through Summer. Easy to find, as two are right on the first beach approach in downtown Long Beach, WA.  One happy guest wrote: "This is the second time I have gone for a ride at this location. The people are friendly and they are really good at picking a horse that fits you and your riding experience. We had a lovely time."
Within a two minute walk to Marshes Free Museum are  Suite Beach, SandyToes, Oceans 12 and Beachy Keen vacation rentals.
Go fishing!
Check out our Fishing and Seafood Markets HERE
Columbia River and Pacific Ocean Deep sea fishing are both popular here.  Ilwaco, Washington is renowned for its sturgeon, salmon, tuna, crab, and bottom fish such as halibut  and perch. The Port of Ilwaco has up to 800 sport and commercial fishing vessels.  In the summer months all the charters tend to sell out every boat, so be sure to book a stay with Bloomer Estates Vacation Rentals and reserve your spot on one of these boats early.
Grab an ice cream cone at Scoopers and then stroll the boardwalk
101 Pacific Ave, Downtown Long Beach
Tel: 360 642-8388
Pretty much everyone who visits Long Beach stops at least once for  ice cream at Scoopers. Scoopers offers 64 flavors from local to standards to creative entries. They also have amazing milkshakes, Sundays, and a choice of homemade waffle cones. 
Enjoy a relaxing and rejuvenating Massage
802 Pacific Ave S, Long Beach, WA 98631-3541
 See our list of all the best massage places HERE.
For that extra bit of relaxation make an appointment at one of the local massage places.  One of many happy customers wrote: "I had an incredible, truly relaxing session there with Kelly today. I am in heaven, my muscles have never felt this at ease, especially in my shoulders (my problem area). I highly recommend scheduling yourself an appointment - you will not be disappointed. I will definitely be back!!"
So many fun things to do. But only ONE home to stay in.